UTC Global signs a contract with the China-Arab Technical and Cultural Transfer Center to jointly promote the Digital Silk Road Empowerment Program
On September 6, 2018, UTC Global (the unified 2D Code registration Management center) and the China-Arab Technical and Cultural Transfer Center successfully held the signing ceremony at Beijing, jointly promote the digital silk road empowerment plan and build the two-dimensional code registration and certification system along the "Belt and Road" countries.UTC Global will follow the development ideas of co-building and sharing, mutual benefit and win-win cooperation, give full play to the advantages of the two-dimensional code industry system, promote the connectivity of national economy and technology fields along the "Belt and Road", and promote the development of the digital economy of China and Arab countries.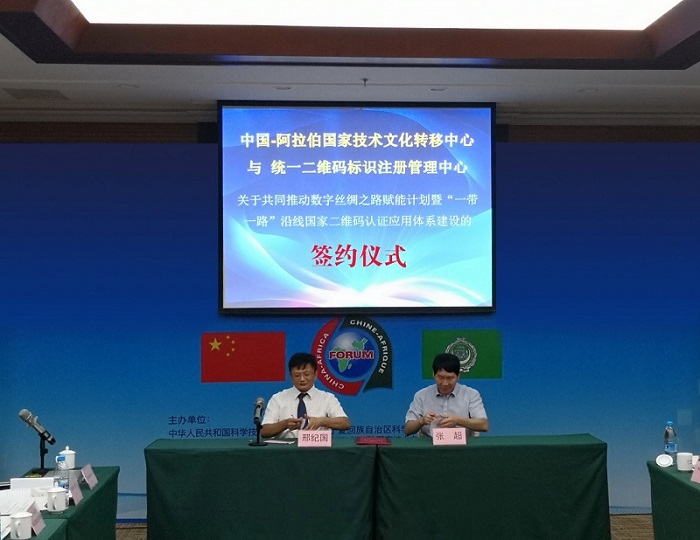 Zhang Chao (right), Representative of UTC Global, and Xing Jiguo (left), director of China International Science and Technology Promotion Association and director of China-Arab Technical and Cultural Transfer Center, signed the agreement on behalf of both parties.
At present, China has become the second largest trading partner of the Arab countries. Jointly promote the implementation of the"Belt and Road" development plan has become the most distinctive feature of the cooperation between China and the Arabs and is reflected in all aspects of China-Arab cooperation. Today, the two-dimensional code is an important entry point for the Internet of Things in the era of big data. This time, the two parties have reached a consensus in the field of unified two-dimensional code identification,through the deep integration of the two parties, they will build an open and shared technical service and communication platform in terms of two-dimensional code standard research, industrial resource integration and application promotion, to realize the standards mutual recognition and information connectivity of two-dimensional code industry between countries at a global scale.
The two parties will establish a joint working group based on the IDcode identification system - a global two-dimensional code unified identification system, and jointly establish a two-dimensional code registration service system in the Arab countries to provide unified two-dimensional code registration, analysis, and accreditation certification and other services.At the same time, UTC Global will strengthen the policy communication with relevant countries, the integration of industrial resources, in the construction of two-dimensional code exhibition bases and the technical training in Arab countries, continuously explore and innovate the fields of two-dimensional code applications, deepen pragmatic cooperation between the two parties, and jointly to promote the implementation of the Digital Silk Road Empowerment Program.